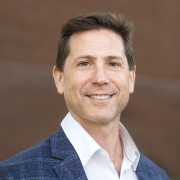 Matt (Columbia '94, HBS '99) partners with HBS students and Alumni who find themselves at important inflection points in their careers - and in their lives. His collaborative approach focuses on identifying what people want to do and understanding the drivers of why. He and his clients then create a path to realize their goals.
Matt (Columbia '94, HBS '99)  is the Founder and Managing Partner of Inflection Point Partners, an executive coaching and leadership development firm dedicated to igniting careers and energizing lives. Matt and his team at Inflection Point form meaningful partnerships with high-performing executives and their teams.  Together, they identify a starting point then co-create a path forward to realize key objectives. The process utilizes Inflection Point's proprietary A-C-H-I-E-V-E goal setting and goal pursuit framework, a topic Matt shares with audiences in keynote speeches and workshops across the globe.
To complement his training as a certified executive coach, Matt draws upon his operating experience working as a Chief Marketing Officer, Chief Revenue Officer, SVP Strategy & Innovation and Chief People Officer. 
Matt had tenures at MTV Networks (Viacom), where he launched new divisions and several initiatives in response to the dramatic changes in the media landscape.  At Moxie Interactive, a digital media agency within the Publicis Groupe, Matt led the New York office and partnered with brands to develop their digital media strategy.  In the data and analytics arena, Matt helped grow IAG Research, which became the arbiter of advertising effectiveness. IAG was acquired by Nielsen.
Matt holds a B.A. in Economics from Columbia College and an M.B.A. from HBS. He earned his Executive Coaching certification from the internationally recognized joint program at Columbia Teacher's College and Columbia Business School.
As a former nationally recognized collegiate athlete, marathon runner and certified personal trainer, Matt places great importance on taking a holistic approach to empower and enable his clients to accomplish their professional and personal goals. As a result, he has complemented his executive coaching training by becoming an Integrated Health Coach trained at Duke University. Matt and his wife, Sharon (HBS '99), live in Westchester, NY with their 2 sons.
Work Experience:
Viacom/MTV Networks (VP Client Services and Ad Sales Strategy), Nielsen IAG (VP of Account Management), Return Path (Chief Marketing Officer), Moxie/Publicis (SVP Strategy Director), We Are the Mighty (Chief Revenue Officer), Inflection Point Partners (Founder/Managing Partner), Morgan Stanley (Associate), Genesis Angel Fund (Investor).
Appointments are added to 12Twenty on a rolling basis. If a coach does not have posted appointments or no posted appointments work for your schedule, please reach out to the coach directly to arrange a mutually agreeable time to meet.
Spotlight Resources